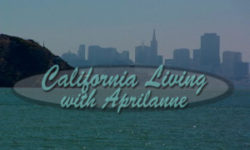 This week on CALIFORNIA LIVING® host and Party Girl Diet™ author Aprilanne Hurley dishes the inside look at 'Tiburon, California, the perfect "Bay Area getaway" for a day-trip or "stay & play" on the San Francisco Bay waterfront.
Here's a peek at all the fun Hurley gets into in this CALIFORNIA LIVING™ TV Travel Special ON "Tiburon, California:"
"Sea to Table" & fresh, local cuisine at the award winning Sam's Anchor Cafe located on the Tiburon waterfront. With a super fun waterfront deck that people can even pull up to in their boats, a visit to Sam's Anchor Cafe located on Main Street in Tiburon, Calif. is a "must experience" Bay Area getaway to enjoy all year round.
Aprilanne get's in on the stand-up paddle boarding fun with DemoSport owner & Adventure Guide Steve Merrifield
Hurley check out Angel Island State Park's amazing white sandy beaches and romantic Sunset Cruises with Captain Maggie McDonogh and the Angel Island Tiburon Ferry.