Aprilanne Hurley – About
Aprilanne Hurley is the TV series creator, producer & host of California Living ® – the iconic San Francisco Bay Area lifestyle TV magazine show delivering an entertaining look at California food, wine, travel and healthy living.
Launched in 2005, California Living ® celebrates over 11 years airing on Broadcast Television in the San Francisco, California, market.
Aprilanne Hurley – Health & Wellness Expert
In Fitness & Nutrition, Hurley has earned certifications as a Specialist in Fitness Nutrition and Lifestyle Fitness Coaching. Hurley is also Certified in Optimal Health, Wellness & Sports Nutrition through San Diego State University.
Aprilanne Hurley is the author of the ongoing Party Girl Diet ™ book series available on Amazon.com. Hurley's media credits include live appearances on ABC, CBS, NBC & FOX networks to promote her Party Girl Diet's Mediterranean lifestyle inspired game-changing diet & workout guides.
Aprilanne Hurley is on a mission to provide people of all ages the information they need to live longer, healthier and happier lives through healthy lifestyle choices. "My passion is nutrition," offers Hurley, "and when it comes to living a healthy lifestyle – with The Party Girl Diet – you really can have it all…just in moderation of course!"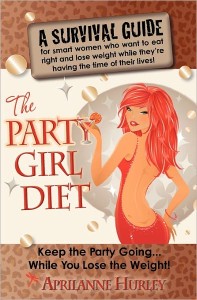 In the community, Hurley was a early adapter and Registered Chef with First Lady Michelle Obama's Chef's Moves to Schools Program, an initiative under The First Lady's LetsMove! Campaign. In her role as a Registered Chef with the Chef Moves to Schools Program, Hurley created and executed a program to teach at risk parents with adolecent children how to cook healthy on the Island of Oahu, Hawaii. Program success highlights include 2 groups of families receiving Hurley's instruction advancing to move out of temporary shelters and into permanent housing two years in a row.
Hurley also created and implemented an interactive, action based learning ciriculum to teach local California students the "Health Benefits of Cooking with Fresh, Local Ingredients".
About The Party Girl Diet: The Party Girl Diet offers a revolutionary Diet & Lifestyle Plan based on the most current health and nutrition research available to date.
While the name is fun – The Party Girl Diet is not a "fad diet" – it is a healthy, sustainable, NEW lifestyle that let's you – Eat Chocolate, Drink Red Wine, and Enjoy a wide variety of delicious foods AND LOSE WEIGHT – While You're Having the Time of Your Life."
Watch episodes on California's trends in food, travel, and healthy living on at: NewCaliforniaLiving.com
Feel free to contact us.
Media and press inquires are welcome to email Party Girl Diet Media Relations Coordinator Hope Gilmore at:  media@thepartygirldiet.com – or contact Aprilanne Hurley directly @ 415.209.0722.
The public may reach Aprilanne Hurley via email at:  april@CaliforniaLiving.TV