Love holiday food & wine?  California Living® host & Party Girl Diet™ author Aprilanne Hurley invites you to check out Take-Aways from the California Living® Hollywood Holiday Entertaining Special Spotlighting:
An amazing Roasted Butternut Squash Soup Recipe, holiday food and wine pairing secrets …and expert table-top designer tips & tricks to make your Thanksgiving table come alive!  In this California Living® Hollywood Holiday Entertaining Special you'll learn:
How to "Dress your Table Like a Hollywood Celebrity" with inexpensive items you may already have at home.
Food & Wine Pairing tips & tricks for the holidays
Holiday recipes like the following Roasted Butternut Squash Soup Recipe…
To get you ready for the ultimate in holiday entertaining, California Living® host Aprilanne Hurley dishes the ultimate Roasted Butternut Squash Soup Recipe compliments of event visionary and table-top designer Marc Blackwell:
Holiday Butternut Squash Soup Recipe
For Six Servings gather:
Three large Butternut Squash
1/2 Pint roasted or boiled chestnuts
3 cups organic chicken stock (can be made with vegetable stock and you can add more or less to achieve desired consistency.)
2 cups water
4 Tablespoons sweet salted organic butter
1/4 cup cold pressed olive oil
4 tablespoons chopped fresh lemon-thyme
1 tablespoon sea salt; 1 tablespoon fresh ground pepper
6 tablespoons maple syrup
Method
Preheat oven to 375
Cut butternut squash in half lengthwise, remove seeds and place on well oiled cookie sheet face down. Bake in oven for 45 minutes.
Cut into pieces and puree in food processor, place in large pot.
Puree chestnuts in food processor, add to squash
Add olive oil, *chicken stock, water, and salt to pot, bring to a boil and then simmer for 15 minutes
Stir in thyme and butter, cut the heat, cover and let sit for 30 minutes, stirring occasionally.
Place in individual bowls adding maple syrup (one tablespoon per serving) and ground pepper on top.
Float thyme sprig on top of each bowl.
This recipe can be made ahead and is best served slightly warm …ENJOY!!!
*Cooking TIP: This Roasted Butternut Squash Soup Recipe has a high starch factor similar to that of a potato soup, so the smoothness of your soup will depend on the right balance of broth/water to squash. Depending on the size of the squash you select – you will want to add more liquid to thin out your squash puree or else it'll taste like you're eating mashed potatoes. You can thin your soup by adding more broth or, for an even creamier texture, some crème fraiche, heavy cream, or for a lighter soup recipe – add in some (fat free) half and half."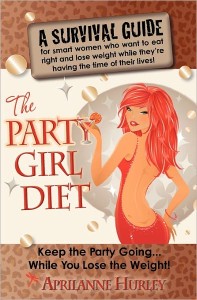 Keep the party going with nutritious & delicious recipes at: PartyGirlDiet.com – and score your FREE Kindle Edition with the purchase of the paper back version with Amazon's kindle matchbook program.
CALIFORNIA LIVING® Season 11 is sponsored in part by Aprilanne Hurley's Party Girl Diet book and Super Abs Playbook Kindle Edition available on Amazon.com. Discover The Party Girl Diet's revolutionary NEW diet and lifestyle that lets you drink wine, eat chocolate, enjoy a wide variety of delicious foods and in essence "keep the party going…while you lose the weight." For more information and healthy, Party Girl Diet recipes and signature workouts please visit PartyGirlDiet.com.
#californialiving #foodandwine #recipes
Share the California Living® FUN!