California Living ® TV personality and Party Girl Diet™ book author Aprilanne Hurley loves recipes that have a "story".
Read on to score the coveted, authentic recipe for "Sam's Tiburon crab cioppino" – Sam's Anchor Cafe's famous recipe with a story.
During one of our California Living® TV shoots on-location at Sam's Anchor Cafe in Tiburon, California, we discovered that the coveted, authentic version of "sams tiburon crab cioppino" we are sharing here with you is the original San Francisco style Crab Cioppino recipe created in the early days of Sam's Anchor Cafe.
The "early days" for Sam's Anchor Cafe date back to almost a century ago.  As the story goes, at the end of a long day of pier fishing in San Francisco, the fishermen would
"chip in" some of their catch for the day to create a "seafood stew" to be enjoyed by the tired, hungry fishermen.  Fresh herbs and spices were used to give the dish, now called Cioppino it's earthy flavor, with fish stock and diced/crushed tomatoes creating the soup's broth base.
Now just like old Sam himself, Sam's Tiburon Crab Cioppino is a spicy dish with a nice kick to it.  We have been told that even after decades in business, Sam's Crab Cioppino Recipe has only been modified slightly over the years to make preparation easier.  For instance, the crab is cracked, and the crabmeat is picked out of the shells ahead of time to enhance the patrons' dining pleasure.
For a great Tiburon, California Getaway check out:
The following "sams tiburon crab cioppino" recipe was originally featured on CALIFORNIA LIVING® with host Aprilanne Hurley and is compliments of the famed Sam's Anchor Cafe located in the town of Tiburon, Calif. on the San Francisco Bay waterfront.
Perhaps one of the most famous San Francisco seafood dishes of all time, Sam's Anchor Cafe's authentic Crab Cioppino is the perfect dish to make ahead & serve a crowd. ~ Aprilanne Hurley, author of The Party Girl Diet™
Sam's Anchor Cafe Crab Cioppino Recipe
Wine Pairing Suggestion:
Pair with Pinot Noir or your favorite Red Wine.
Ingredients:  Serves 2:
1/4 cup olive oil
6 prawns
8 clams
8 mussels
6 ounces fresh fish (salmon or halibut)
1/2 cup diced red bell pepper
1/2 onion, diced
1/2 tomato, diced
2 tablespoons minced garlic
1 tablespoon chili flakes
1 tablespoon chopped basil leaves
1 tablespoon chopped oregano
1 tablespoon chopped rosemary
1 tablespoon chopped parsley
4 cups lobster stock
2 cups tomato puree
Salt Freshly ground black pepper
8 ounces fresh picked crab
Directions:
In a large pot, heat olive oil over medium heat. Add the prawns, clams, mussels, fresh fish, red pepper, onion, tomato, garlic, chili flakes, basil, oregano, rosemary, and parsley and cook for 2 minutes.
Add the lobster stock and then stir in the tomato puree.
Cook until the clams and mussels open and sauce thickens, about 15 to 20 minutes.
Season with salt and freshly ground black pepper. To serve, ladle into 2 bowls and garnish with lump crab meat and fresh, chopped chopped parsley.
Sam's Anchor Cafe is Party Girl Diet "Approved".  A few years back, Sam's Anchor Cafe co-owner – Brian Wilson made national news launching a campaign spotlighting Tiburon, California as the first "trans-fat free city" in the country.
Catch CALIFORNIA LIVING® with host Aprilanne Hurley live, record it, TiVO it – just don't miss out on all the CALIFORNIA LIVING® Fun!
Click her for CALIFORNIA LIVING® Broadcast TV channel placement information.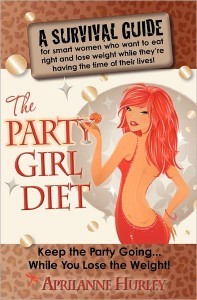 CALIFORNIA LIVING® is sponsored in part by The Party Girl Diet™ & Super Abs Playbook™ – 2 books in Aprilanne Hurley's revolutionary, healthy NEW lifestyle book series available on Amazon.com to help you "keep the party going…and keep the weight off" this season.
Stay Tuned for Hurley's soon to be released Party Girl's "Aloha Diet" – which documents Hurley's completed mission to visit all of Hawaii's inhabitable Hawaiian Islands (Even Niihau – "Hawaii's Forbidden Island")..and reveals the secrets of the Hawaiian people, foods and traditions that garner Hawaii the title of "The U.S.A's Healthiest State."
Complete with easy and delicious Hawaiian inspired recipes with a "story," and fun, quick workouts you can do anywhere, men and women everywhere will be saying "Aloha" to a "New Way of Life" with Hurley's "Aloha Diet." Please visit AlohaDiet.com for more information and release dates.
Aprilanne Hurley completed her nutrition studies at San Diego State University in "Optimal Health, Wellness and Sports Nutrition," and has received certifications as a Specialist in Fitness Nutrition and Lifestyle Fitness Coaching. Aprilanne Hurley is the author of The Party Girl Diet™, The Super Abs Playbook™, and The Socialite Diet™ all available on Amazon.com.
Aprilanne Hurley is the Series Creator of CALIFORNIA LIVING® – the "California lifestyle" inspired TV magazine format show featuring California's trends in food, travel, and healthy living celebrating 10 years on broadcast television.
Hurley's media credits include live TV appearances on ABC, CBS, NBC and FOX Networks to discuss the Party Girl Diet's healthy Mediterranean inspired diet, lifestyle and workout plan that lets you "keep the party going – while you lose the weight."
Get the inside look at California Living TV videos and a few of the Party Girl Diet's recent live media appearances featured on the official California Living® YouTube Channel.
CALIFORNIA LIVING® is the Registered Trademark of Aprilanne Hurley, Inside Look TV (c) 2005 – 2017 All Rights Reserved.
Share the California Living® FUN!