CALIFORNIA LIVING® with host Aprilanne Hurley reaches millions of  TV  households in the San Francisco, Oakland and San Jose Calif. Market – the Nation's 6 largest TV market.  Currently airing on Ion Television in both the San Francisco and Sacramento markets, CALIFORNIA LIVING® is thrilled to be celebrating over 10 years on broadcast television with the ongoing mission to deliver fun, "California lifestyle" inspired content in a fast paced, TV magazine style format.
The A-list of celebrity chefs, winery pros, home improvement experts, interior designers and high profile business professionals featured on CALIFORNIA LIVING® is a strong indication of the superior quality of the content airing on CALIFORNIA LVING® weekly  – delivering entertaining information viewers can trust.
CALIFORNIA LIVING® host Aprilanne Hurley notes, "Our mission is to bring to our viewers the inside look at California's wine countries, beaches, resorts, spas and travel destinations that embody the incredible 'California lifestyle,' with a major focus on California's trends in food and wine, travel and healthy CALIFORNIA LIVING® in TV segments that spotlight all the amazing fun we can get into right in our own backyards."
Hurley extend a special "thank you" to all of our sponsors and faithful viewers who have made the CALIFORNIA LIVING® brand and mission a reality. It all started with our first show in Nov. of 2004, a home design special spotlighting the "Marin Designers Showcase," the major fundraiser for CVNL, (Center for Volunteer and Non-profit Leadership of Marin). This show was so well received…we just kept the party going into 2005 – with a full blown series under way…and have been producing the CALIFORNIA LIVING® TV lifestyle magazine show ever since.
We  invite you to explore our site here, watch us on-air on ION Television – as well as check out some of our featured show content on the CALIFORNIA LVING® YouTube Channel to "Find out why it's just more fun…living in California.™"
Want to join the fun?  If you have a business or service you think our viewers would be interested in give us a call at:  415.209.0722.
CALIFORNIA LIVING® with host Aprilanne Hurley is an Inside Look TV, LLC Media Production. CALIFORNIA LIVING® is the Registered Trademark and IP Property of Inside Look TV, LLC/Aprilanne Hurley.  (C) 2005 – 2015 All Rights Reserved.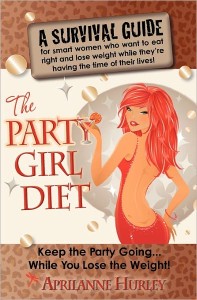 CALIFORNIA LIVING® is sponsored in part by The Party Girl Diet™ – Aprilanne Hurley's revolutionary new diet and lifestyle that lets you drink wine, eat chocolate, enjoy a wide variety of delicious foods…and in essence "Keep the party going…while you lose the weight."
Order your copy of the Party Girl Diet™ on Amazon.com today and receive a FREE Kindle Edition of The Party Girl Diet™ with Amazon's Kindle Matchbook Program.
Share the California Living® FUN!