Finding yourself on a "Shelter at Home" Lockdown? Make the best of it! Get sexy abs in just 2 weeks with California Living ® TV host Aprilanne Hurley's ultimate Sexy Abs Workout on-demand.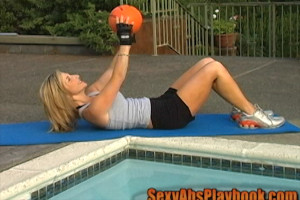 California Living® host Aprilanne Hurley says, "Sexy Abs are always in season".  And fortunately, Hurley's Sexy Abs Workout is now On-Demand! This is your chance to check out the companion sexy abs workout for The Party Girl Diet's Super Abs Playbook™ Kindle/E-book available on Amazon.com.
The Party Girl Diet's Super Abs Playbook is "Your Sexy Abs Diet and Workout Game-plan to Sip, Sculpt & Sleep Your Way Skinny" delivering 6 Super Abs Power Plays to include:
Scientific weight loss and appetite hormone management secrets

The Super Abs Playbook Signature Sexy Abs Coconut Water Smoothie Recipe

Super Abs Skinny Soup Recipes

Unlimited access to the Super Abs Playbook's Sexy Abs Workout

Super Abs Diet Meal Plans and…

BONUS Party Girl Diet Cookbook delivering healthy party food "recipe makeovers" for party food favorites like cheeseburgers, guacamole, chili, meatballs, the Party Girl Diet's famous Skinny Fudge Recipe...and more.
Hurley's Sexy Abs Workout premiered on ION Television in the San Francisco and Sacramento, California TV markets.
For more information on all of Aprilanne Hurley's nutrition books and workout videos visit: