California Living ® host Aprilanne Hurley invites the public to experience The California Life ™ in Tiburon California during the 2015 Tiburon Holiday Festival on Saturday, Dec. 5, 2015.  Imagine the delight on your children's faces as they frolic in real snow, decorate their own gingerbread houses, and ride through the fairytale streets of Tiburon by horse-drawn carriage!   California Living ® assures you this is one San Francisco Bay Area holiday event that is sure to engage children and adults of all ages.
California Living ® airs the "Destination:  Tiburon" California Travel Special on Thursday, Dec. 24, 2015 on ION Television in the San Francisco and Sacramento Markets.  In the meantime, California Living ® host Aprilanne Hurley invites you to get a taste of  The California Life ™ and holiday magic waiting for you in Tiburon, California, during the 2015 Tiburon Holiday Festival.
Below is a listing of all the family fun happening during Dec. 5, 2015 Tiburon Holiday Festival, which can also be found on the  Tiburon Peninsula Chamber of Commerce's website:
Tiburon Holiday Festival 2015, Saturday December 5 Take a Walk Through Town to Enjoy the Holiday Windows & Festive Food & Drink Offerings from your Favorite Shops & Restaurants…
Breakfast with Santa ⎜ Belvedere Community Center ⎜ 9 – 10:30 am
$15 – call The Ranch for tickets. 415 435 4355
Landmarks' Holiday Art and Craft Sale⎪Art & Garden Center, 841 Tiburon Blvd ⎜ 10 am – 4 pm Holiday fair nestled in an historic farm cottage, filled with art and crafts from local artists and The Landmarks' famous pear brandy!
Play in the Snow! ⎜ The Courtyard, Boardwalk Shopping Center ⎜ 2 – 3 pm
How often do you get to play in the snow? Snowflakes, cookies & hot chocolate abound in The Boardwalk for one fantastic afternoon.
Experience a Horse-drawn Carriage Ride through the quaint streets of Tiburon, California 2 – 5 p.m. Dec. 5, 2015.  Horse Drawn Holiday Wagon Rides ⎜ Main Street ⎜2 – 5 pm **
Experience the thrill of an old fashioned Country Carriage Charter horse-drawn wagon ride. Slow down and savor the sights and sounds of the holiday season in a festive holiday wagon pulled by two magnificent Clydesdale horses.
Children's Holiday Ornament Workshop ⎜ Ark Row ⎜ 2 – 5 pm
Kids, come decorate ornaments to take home! You'll find a wonderland of glittering, colorful supplies for making your unique ornaments. We will furnish everything you need – plus one of Santa's helpers, the creative Annelies Atchley, to assist.
Santa arrives on Dec. 5, 2015 at 2:30 p.m. during the Tiburon Holiday Festival.
Santa Arrives by Firetruck ⎜ Main Street & Tiburon Blvd ⎜ 2:30 pm
Greet Old St Nick as he arrives in town in firetruck! Though he left his elves in the North Pole (busy time of year for them), Santa will bring along Mickey Mouse and friends.
Visit with Santa ⎪Bradley Real Estate, 1690 Tiburon Blvd ⎜ 2:30 – 6 pm
Capture the magic of the holidays with photo of your loved ones while they visit Santa in a winter wonderland. Please bring your own camera. With thanks to Bradley Real Estate.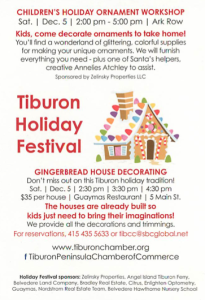 Gingerbread House Decorating ⎪ Guaymas, 5 Main Street ⎜ $35 ⎪3 sessions: 2:30 pm⎜3:30 pm⎪4:30 pm (reservations recommended)
Decorate your own gingerbread house! The houses are already built so just bring your imagination – we provide all the trimmings. Call 415 435 5633 or email tibcc@sbcglobal.net or Click here for tickets! (Fees apply for online registration)
Barbershop Quartet ⎪ Enlighten Optometry, 46A Main Street ⎜ 3 – 4 pm
It doesn't get more traditional than this! Enjoy the perfect harmony of a barbershop quartet. Starting at Enlighten Optometry at 3 pm, the quartet will stroll along Ark Row to Cafe Renzo.
FREE!  Unique Gift Wrapping with Toppers & Tags Crafts Workshop with Captain Maggie's Crew & The Angel Island – Tiburon Ferry, 21 Main Street ⎪ 4 – 6 pm
.  (415) 435-2131 – Make some truly unique gift tags, gift toppers, holiday crafts and more while enjoying hot apple cider & cookies onboard the Angel Island Ferry dockside!
Join Angel Island – Tiburon Ferry on Dec. 5, 2015 from 4 p.m. – 6 p.m., and participate in an array of FREE "Unique "Holiday Gift Wrapping & Crafts Workshops" to create FUN gift toppers, tags & more" to enhance for your holiday packages and give as gifts!"
The public is invited to join Angel Island Ferry & Crew for hot apple cider and cookies while having fun creating holiday decorations & craft activities the whole family will enjoy!
Join Angel Island Ferry for a FREE Crafts Event & refreshments on Dec. 5, 2015 from 4 p.m. – 6 p.m.
Roasted Chestnuts & Live Music⎪Caffe Renzo, 110 Main Street, Ark Row ⎪ 2 – 5 pm
Ark Row is magical in the holidays. Stroll and enjoy the twinkling lights and the wonderful scents of chestnuts roasting on an open fire. A special performance from T-Rosemond on acoustic guitar is sure to delight.
Tree Lighting Ceremony ⎜ Fountain Plaza ⎜ 6 pm **
Share the California Living® FUN!