California Living ® Magazine spotlights Inn at the Tides Clam Chowder Recipe for Super Bowl Sunday
Thinking about making New England Clam Chowder for Super Bowl Sunday LII to show your support for the New England Patriots? Well, no matter which team you're routing for to win Super Bowl LII, you'll score big serving up hot and delicious bowls of  Inn at the Tides  famous New England Clam Chowder recipe this weekend.
Make this famous Bodega Bay clam chowder…at home
California Living ® TV host Aprilanne Hurley also recommends you plan a visit to Bodega Bay, California, to experience the Inn at the Tides Wharf & Restaurant's clam chowder first hand.  And while you're at it, check out a few more of the famous Hitchcock's Birds movie filming sights with the California Living Magazine TV Special: Bird's Movie Scene Tour on-demand.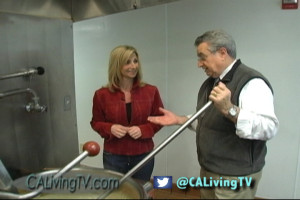 In the meantime, we are all winners in the recipe department.  You see, Carlo Galazzo, General Manager of The Inn at The Tides and Tides Wharf & Restaurant was kind enough to share the Inn at the Tides famous New England Clam Chowder Recipe below, for California Living ® viewers and web visitors to try at home.
The Tides Wharf Restaurant's famous New England Style Clam Chowder Recipe featured in the California Living ® "Hitchcock Bird's Movie Scene Tour Special" – which sets the stage for a "Birds Weekend" on location in beautiful Sonoma County in the inland town of Bodega, and on the Sonoma Coast in Bodega Bay, California.
Inn at The Tides Clam Chowder Recipe:
Ingredients:
1 lb clams, canned, chopped
5 cups clam juice, canned
3 slices bacon, diced
1 large onion, diced
4 medium potatoes, diced
salt and pepper to taste
2 cups hot milk
1 1/2 cups hot heavy cream (Make it lighter by replacing with fat free half and half)
1 cup Roux, 1/2 butter 1/2 flour
1 cup celery, diced
Method:
Combine bacon, onions, and celery in a saucepan, cook gently over low heat for 10 minutes.
Add clam juice and potatoes. Add Salt and pepper to taste. Cook potatoes until tender.
Add the hot milk and hot cream, boil for 5 minutes. thicken with the Roux, and…serve!
Serving Suggestion:  San Franciscan's and tourists alike know the ultimate way to enjoy New England Clam Chowder is ladled in a sourdough bread bowl.   Enjoy and may the best team playing in Super Bowl LII win.
Score healthy Super Bowl recipes with Aprilanne Hurley's Party Girl Diet
Looking for more delicious Super Bowl party recipes? Check out the Party Girl Diet's line-up of Super Bowl party food recipes such as Hot Wings, Super Bowl Chili… and more – all nutritionally designed to "Keep the party going…and keep the weight off".
Share the California Living® FUN!