California Living ® TV series creator & host Aprilanne Hurley is all about sun drenched "California Getaways" with the "wow factor" like Santa Barbara, home to white sandy beaches and California's "Mission Santa Barbara."
A personal favorite of Hurley's, Mission Santa Barbara is a "must see" destination topping the attraction list for its unique "living story" experience depicting what life was like when Mission Santa Barbara was home to the Spanish Franciscans…as well as what "living in California" is like at the Mission today, more than 200 years later.
Where  to "Stay & Play" in Santa Barbara (Also know as:  The "American Riviera")
Situated on 10 acres of beautifully landscaped gardens, the Santa Barbara Mission was established on the Feast of Saint Barbara on December 4, 1786 and was the tenth of twenty-one California Missions to be founded by the Spanish Franciscans.
More than 200 years later, Mission Santa Barbara continues to be the chief cultural and historic landmark in the city of Santa Barbara, offering Saturday vigil services and Sunday Masses for parishioners and the public to attend. The current home to a community of Franciscan friars, additional public offerings of Mission Santa Barbara also include:
Retreat center with guest rooms
Conference rooms
Fully equipped commercial kitchen and dining room
Museum and gift shop
Cemetery and mausoleum
Beautiful photo opportunities
Experience life as the founding Santa Barbara Mission Franciscans did and set your sights on an adventure into the amazing past with an organized tour of Mission Santa Barbara during your visit.
Mission Santa Barbara offers both organized tours as well as "Self-Guided Tours for visitors of all ages,Mission's commanding position and grand proportions, graceful lines and soft, blending colors all reinforce her title, "Queen of the Missions."
Click here for 2014 Mission Santa Barbara tour info. and pricing
"Find out why it's jut more fun…living in California™"  – vist California Living ® TV Magazine host Aprilanne Hurley's  California Living ® Youtube Channel.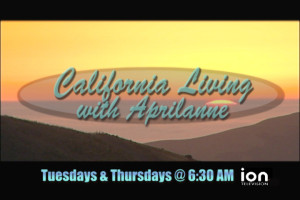 CALIFORNIA LIVING ® is the registered copyright/trademark of Aprilanne Hurley/INSIDE LOOK TV.
(C) 2005 – 2017 All Rights Reserved.
For healthy and delicious CALIFORNIA LIVING ® inspired recipes visit:PartyGirlDiet.com.
Share the California Living® FUN!