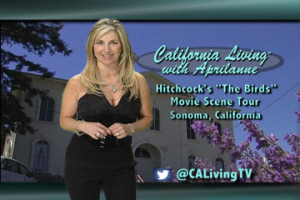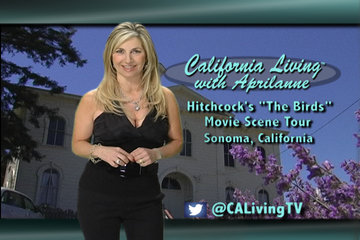 Home for the holidays?  California Living® invites you "Make it a Birds Weekend" in Bodega Bay, California.
This week on California Living® viewers are in for a unique entertainment treat jam packed with Hitchcock Birds Movie history, trivia, and  thrills when they tune-in for the CALIFORNIA LIVING® "Insider's Guide" to the major filming sites in Alfred Hitchcock Birds Movie Scene Tour TV Special taking place in the unique town of Bodega, and coastal areas of Bodega Bay, California.
INSIDE LOOK TV, LLC is pleased to air its CALIFORNIA LIVING® "Hitchcock Birds Movie Scene Tour" Travel Special this season with ION Television in the San Francisco and Sacramento markets. Designed to inform as well as entertain, this unique CALIFORNIA LIVING® Travel Special will provide viewers with:
The 'inside look" at ALL of the major filming locations of  Alfred Hitchcock's 1960's thriller "The Birds."
An overview of the unique inland town of Bodega – home to Potter School and St. Teresa's Church, one of the most famous Bird's movie filming sites.
Fun "Birds" movie trivia in this CALIFORNIA LIVING® Destination Bodega Bay, California Hitchcock Birds Movie Scene Tour TV Travel Special.
The CALIFORNIA LIVING® Insider's Guide on "Where to Stay & Play" in Bodega Bay, California. with the inside look at The Bodega Bay Lodge & Spa – the #1 lodging choice in Bodega Bay, California. INSIDE LOOK TV, LLC.
Tune in, TiVO it – just don't miss this California Living Travel™ Special featuring "Hitchcock Birds Movie Scene Tour" to "Find out why it's just more fun…living in California."
Watch the movie trailer below for Hurley's NEW Super Abs Playbook Kindle book available on Amazon and the inspiration for the California Living® Super Health & Fitness Special airing this season…and catch all the California Living® fun Tuesday & Thursday mornings @ 6:30 a.m. on ION Television – see CA Living TV's Broadcast Schedule for details.
California Living® with series creator and host Aprilanne Hurley is an Inside Look TV, LLC Media Production sponsored in part by Hurley's best seller The Party Girl Diet, the revolutionary California lifestyle inspired life plan that lets you "keep the party going…while you lose the weight." Check out great Party Girl Diet recipes and quick workouts at: PartyGirlDiet.com.

Share the California Living® FUN!