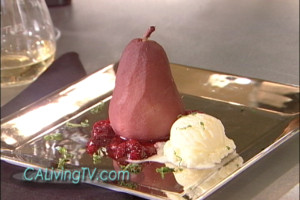 Join California Living® TV host and Party Girl Diet™ author Aprilanne Hurley for the inside look at "Holiday Entertaining" made simple with tips, tricks and yummy holiday recipes to ensure you will "survive" and even better – enjoy every minute of the holiday season indulging on delish food & wine with family and friends.
California Living® host Aprilanne Hurley dishes Hollywood worthy holiday table-top design ideas
Score expert table-top design tips & tricks to give your Thanksgiving table a "Hollywood makeover" with California Living® host Aprilanne Hurley and celebrity table-top designer Marc Blackwell, who also shares his secrets to food & wine paring and entertaining with ease.
Holiday Entertaining Tips: You don't need to spend a fortune to create an elegant and memorable Thanksgiving and/or holiday table-top. Here are the "take-home" tips from this CALIFORNIA LIVING® with host Aprilanne Hurley Holiday Special you can put into action TODAY:
California Living® host Aprilanne Hurley & entertainment expert Marc Blackwell have your holiday table-tops covered this season.
To create a Hollywood worthy holiday table-top our design expert guest Marc Blackwell says you need 3 key design elements:
1. Incorporate something live. This can be a flower arrangement, or even branch clippings from your yard. The idea is to bring the freshness of the outside in, and do be creative – there's no such thing as doing it wrong with this design element. To this end, Blackwell filled a glass container with fresh cranberries and pears to create a unique centerpiece with "live" elements.
2. Have a light source on the table. This can easily be done with fabulous candles as we did on the show, yet you could also as Blackwell offers, set a unique lamp on the table to create an intimate look and style all your own.
3. Have a few bottles of wine on the table for your guests to easily serve themselves. This is a great idea and one that will make your guests feel welcome, relaxed and comfortable when looking to refill their wine glass without having to bother the host in order to do so.
In "Food & Wine Pairing," for starters, Blackwell shares the unique features of his coveted Butternut Squash Soup with CALIFORNIA LIVING®, which offers the perfect "seasonal" starter course for your Thanksgiving or holiday dinner party.
CALIFORNIA LIVING® host Aprilanne Hurley's Entertaining Tip: Due to the unique properties of Blackwell's Butternut Squash Soup Recipe, this soup will actually stay warm for quite some time so you can set it out ahead of time and have it waiting on the table as your starter course.
Watch the CALIFORNIA LIVING® with host Aprilanne Hurley Holiday Wine & Dine Special on:
Tuesday, Nov. 22, 2016
Thursday, Nov. 24, 2016
California Living® with host Aprilanne Hurley airs on ION Television's KKPX-TV 65/ Comcast Cable 16 in San Francisco – Oakland & San Jose AND KSPX-TV Channel 29 – Comcast Cannel 11 in the Sacramento Market. Click here for Broadcast Channel info.
The CALIFORNIA LIVING® Holiday Wine & Dine Thanksgiving Special features expert table top designer tips & tricks to make your Thanksgiving table come alive:
How to "Dress your Table Like a Hollywood Celebrity" with inexpensive items you may already have at home.
Food & Wine Pairing tips & tricks for the holidays
Easy holiday entertaining tips including the hostess benefits of serving Marc Blackwell's Butternut Squash Recipe.
Share the California Living® FUN!