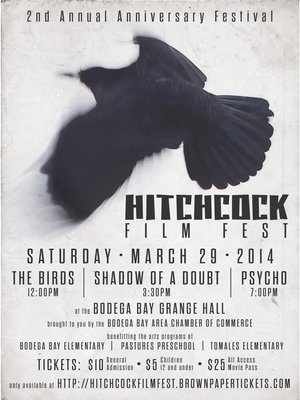 CALIFORNIA LIVING™ with host Aprilanne Hurley invites you to "Make it a Bird's Weekend" in Bodega Bay Calif.
March 28-29, 2014
– to experience world famous
"Wine Surfing" at Gourmet au Bay
, relax and recharge at the
Bodega Bay Lodge & Spa
, and experience the
Bodega Bay Area Chamber of Commerce's Gala Event
at the
Bodega Harbour Yacht Club
on Friday, March 28 at 6:00 p.m., which kicks off  the Chamber's 2nd Annual Hitchcock Film Fest – an all day movie screening extravaganza taking place on Saturday, March 29, 2014.
Get ready to turn heads on the red-carpet (complete with professional paparazzi) March 28 at the Hitchcock Film Festival's Gala Event while enjoying cocktails, hors d'oeuvres…and a tribute evening screening of Hitchcock's "The Birds" on premise.
March 28 Gala Event Tickets are $50 per person and include hors d'oeuvres, cocktails (2 drink tickets) and popcorn for the movie.  Buy your tickets online at Brown Paper Tickets here.
On Saturday, March 29, three Hitchcock movies will be screened at the Bodega Bay Grange Hall:
The Birds 12:00 p.m.
Shadow of a Doubt 3:30 p.m.
Psycho 7 p.m.
Tickets are $10/movie for Adults and $5/movie for children 12 and under.
Great Value:  An All-Access Pass is also available for $25
($12.50 for children 12 and under).  Proceeds from the weekend will be donated to the arts programs of Bodega Bay School, Tomales Elementary and Pastures Preschool.  For more information and ticket sales check out visitbodegabayca.com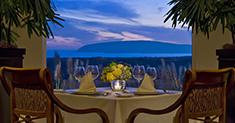 Plan your "Stay & Play" Bodega Bay "Bird's Weekend Getaway" at the Bodega Bay Lodge & Spa, Sonoma's premiere coastal retreat…and a CALIFORNIA LIVING™ favorite destination in Bodega Bay, Calif, where you will enjoy:
Ocean view dining at the Duck Club Restaurant and and Drake's Fireside Lounge (pictured left)
Well appointed accommodations with ocean views, private balconies & fireplaces
A relaxing pool and spa on property
Convenient location in walking distance to local shops, restaurants and Doran Beach
CALIFORNIA LIVING™ Food & Wine Pick:  You owe it to yourself to check out the world famous "Wine Surfing" at Gourmet au Bay, in Bodega Bay, Calif.  Enjoy a truly unique food & wine experience at Gourmet au Bay – "the only waterside wine bar & tasting room on the Sonoma Coast," featuring small production, award winning wines from California and unique gifts.
Wine Surfing 101″ – Here's how "Wine Surfing" works at Gourmet au Bay :  You'll have the opportunity to choose from three wines off their daily list of options – and they'll pour them up an a surfboard for you to enjoy coast-side, on Gourmet au Bay's weather protected deck.  You can addd a fabulous local cheese pairing (and you know California cheese is the best) choosing from cheese producers such as:
"Find out why it's just more fun…living in California" with CALIFORNIA LIIVNG™ host Aprilanne Hurley Tuesday & Thursday mornings on KKPX – TV 65, Comcast 16, and KSPX-TV 29 – Comcast 11 n ION Television in the San Francisco and Sacramento markets, and follow us on Twitter @CALivingTV to "Keep the party going."
Share the California Living® FUN!