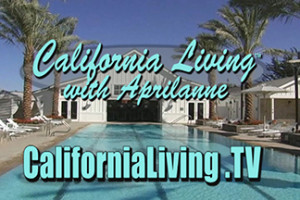 Is a busy life preventing you from finding time to getaway? Relax…with California Living's Insider's Guide to The Carneros Inn and Spa's "Destination Day Spa Package" complete with the use of an amazing cottage to use the day you are getting your treatment(s).
Readers outside of the San Francisco Bay Area can watch the California Insider's Guide to the Carneros Inn & Spa's "Destination Day Spa Package" segment airing in this episode of California Living™ on this website below as well as on California Living™ TV's YouTube Channel.
Plus you can also score Winery Chef Jeffrey Starr's food & wine pairing and entertaining secrets.
Here's Jeffrey Starr's coveted Red Thai Curry Sauce Recipe below, which is one of the dinner party recipes you can make ahead of time – to save time…featured in this show:
Jeffrey Starr's -Thai Red Curry as featured on California Living with host Aprilanne Hurley:
• 2 – 13 ½ oz. Thai coconut milk
• 
2 – teaspoons Thai red curry paste (or more, to taste)
• 3 red bell peppers, roasted and peeled, roughly chopped
• 2 red bell peppers, raw, roughly chopped
• 1 stalk lemon grass, smashed flat to release juice
• 3 kaffir lime leaves, crushed (can sub. 1 tablespoon lime zest)
• 3 sprigs mint
• 3 sprigs cilantro
• 4 cloves garlic
• 2 tablespoons minced fresh ginger
• 1 tablespoons fish sauce
salt, to taste
Method:
Combine coconut milk, red curry, roasted and raw red bell peppers, lemon grass, kaffir, mint, cilantro, garlic, ginger, and fish sauce in a saucepan and bring to a boil.
Lower heat and simmer for 1 hour.
Let cool slightly and transfer to a blender and blend until smooth.
Pass curry through a fine mesh strainer. Season with salt.
Makes 1 quart
"Find out why it's just more fun…living in California" with the CALIFORNIA LIVING Insider's Guide to California food, travel and healthy living Tuesday and Thursday mornings on KKPX-TV in San Francisco – Oakland & San Jose, Calif. and on KSPX-TV in the Sacramento market on ION Television.
California Living™ with host Aprilanne Hurley is made possible in part by The Party Girl Diet™ Aprilanne Hurley's revolutionary, healthy new diet and lifestyle that let's "keep the party going…while you lose the weight."
Share the California Living® FUN!