Find out why life is just more fun ~ living in California™  with California Living™ series creator and host Aprilanne Hurley who dishes the 2013 California Insider's Guide to Bay Area getaways offering fresh, "just off the dock" seafood, and "farm to table" cuisine in romantic California destinations such as Napa Valley, Sonoma County, and getaway hotspots along California's coast.
California Living™ with Aprilanne airs Tuesday & Thursday mornings @ 6:30 a.m. in the San Francisco and Sacramento, CA markets on ION Television.  Click here for California Living™ 2013 channel placement  info. and Broadcast TV Schedule details.
Check out the best of California life with CA Living's line-up of Romantic Bay Area Getaways in the spotlight Summer 2013: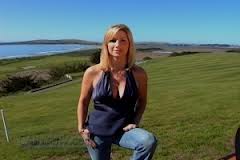 Destination Bodega Bay, CA:
Join CA Living™ host Aprilanne for the inside look at Bodega Bay's world class golf and cuisine and romantic places to stay & play.  Show highlights include:
Wine Country cuisine with a true wine country chef at The Blue Water Bistro, Bodega Bay, CA.Golf lesson with PGA pro Bob Caldwell at Links at Bodega Harbour, Bodega Bay, CA.
Aprilanne gives you the Inside Look at one of the famous locations in Hitchcock's thriller The Birds.
Sonoma Coast Villa & Spa dining and spa treatments – and the Bodega Bay Real Estate market are also in the spotlight.

California Living™ with Aprilanne on location in  Tiburon, California
Destination Tiburon – one of California Living's top "Healthy Bay Area Getaways:"
Dreamy waterfront lodging and awarding winning dining grace this bayside town waterfront know for its amazing views of the San Francisco skyline and the Golden Gate Bridge.  California Living™ with Aprilanne Tiburon, CA Travel Special highlights include:
Anti-aging spa treatment at the Eva Claiborn Skin Institute
Stand Up Paddle-boarding lesson with DemoSport Adventure Guide Steve Merrifield
Sunset Cruise with Captain Maggie McDonogh of the Angel Island Tiburon Ferry and excursion to Angel Island State Park's magical beaches.
Waterfront dining experience at Sam's Anchor Cafe – a world famous Tiburon CA destination for its casual waterfront deck venue and fine dining hot-spot.
California Living host Aprilanne Hurley checks the Carneros Inn and Spa, CA.
California Living ™ with Aprilanne spotlights "Relaxed California Living" in Napa Valley Wine Country:
California Living™ host Aprilanne Hurley meets up with Winery Chef Jeffrey Starr at the Trinchero Family Estate's Sutter Home Inn in Napa Valley, CA for the inside look at how to master a decadent 5 course wine pairing dinner.  Starr shares his wine pairing tips & tricks, and shares his secrets to entertaining with ease.
California Living™ host Aprilanne Hurley explores the unique "luxury without pretense" resort accomodations at the Carneros Inn & Spa, located in Napa Valley's Carneros Region,
Hurley also discovers The Carneros Inn and Spa's fabulous "Destination Day Spa Package" and relaxes California Living style with a "Healing Gem & Stone Massage."
California Living™ in the Paso Robles Wine Region:
Paso Robles California is truly a must experience romantic getaway for Bay Area and Southern California residents and tourists.  California Living's Paso Robles Travel Special highlights include:
Join Aprilanne for a custom wine tasting tour in the Paso Robles Wine Region with Coy and Sarah Barns, the knowledgeable and friendly owners of The Wine Wrangler.
Aprilanne takes you behind the scenes to see how wine is made at Grey Wolfe Cellars, Paso Robles, CA.
Discover Paso Robles historic downtown; and go underground for a private wine pairing dinner.
Plus, there more romantic Bay Area Getaways in Season 8 to come…so stay tuned for more California Living™ with Aprilanne show schedule announcements.
California Living™ with series creator and host Aprilanne Hurley is an Inside Look TV Media Production. (c) 2005 – 2013 Inside Look TV, LLC All Rights Reserved.
California Living™ Season 8 is sponsored in part by Aprilanne Hurley's Party Girl Diet book and Kindle Edition available on Amazon.com.  Discover The Party Girl Diet's revolutionary new diet and lifestyle that lets you drink wine, eat chocolate, enjoy a wide variety of delicious foods and in essence "keep the party going…while you lose the weight."  For more information and healthy, Party Girl Diet recipes and signature workouts please visit PartyGirlDiet.com.
Share the California Living® FUN!