Here in California, life is good.  Life gets even better when living the California lifestyle includes a day trip to Angel Island State Park where  food, fun and live music in on the menu.  Here's the California Living™ Insider's Guide to one of the Best Bay Area Day Trips for Summer 2013:
Weekend time is play-time …
That's why Captain Maggie of Angel Island Tiburon Ferry created "The Weekender" – the perfect Bay Area day trip for people who want to sleep in, and spend their weekend afternoons relaxing with friends in a fun outdoor venue.
The Dish.  The Angel Island Cafe and Cantina Live Music Series runs every weekend 2 p.m – 4:30 p.m. this summer through September 2013.  Visitors can dine on fresh Hog Island Oysters and an array of healthy and delicious "Party Girl Diet approved" menu items while relaxing with a cold Lagunitas brew or glass of wine on the Cantina view deck overlooking San Francisco Bay.
The Details. To experience "The Weekender" one of the best Bay Area day trips, head to Angel Island Tiburon Ferry's dock in Tiburon, CA to catch the 1 p.m or 2 p.m ferry to Ayala Cove, Angel Island State Park. Angel Island Cafe and Cantina is located in Ayala Cove.
Angel Island Ferry provides hourly ferry transports to Angel Island from 10 a.m. – 5 p.m. weekends, with hourly returns running 10:20 a.m. – 5:20 p.m.
Weekdays, Angel Island Tiburon Ferry runs 10 a.m, 11 a.m., 1 p.m. and  3 p.m. , with return ferry service to Tiburon, CA @ 10:20 a.m., 11:20 a.m., 1:20 p.m. and 3:30 p.m.
Captain Maggie says "We're all so busy these days and we all need to take a little time out to relax and unwind…a fun ferry ride on San Francisco Bay and day trip to Angel Island is the perfect way to getaway without going away."
You May also enjoy:
California Living Spotlights Romantic Bay Area Getaways
Find out why it's just more fun…living in California™ with California Living Season 8 2013 airing in the San Francisco and Sacramento markets Tuesday & Thursday Mornings on ION Television.
The California Living™ brand is the property of Inside Look TV and California Living series creator Aprilanne Hurley. (c) 2005 – 2013 All Rights Reserved.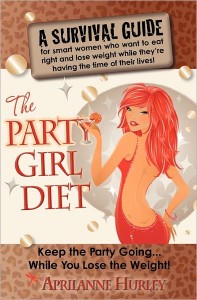 California Living Season 8 is made possible by The Party Girl Diet, Aprilanne Hurley's the revolutionary new diet and lifestyle available on Amazon that lets you eat chocolate, drink red wine, enjoy a wide variety of delicious foods and in essence "keep the party going…while you lose the weight."
Grilling up some fresh oysters at home?  Check out this Party Girl Diet approved Oysters Rockefeller Recipe on PartyGirlDiet.com
Share the California Living® FUN!