Food and Wine, yes please.  California Living ® Food and Wine spotlights two things California is famous for.
California Living ® with Aprilanne Hurley is all about food & wine, travel… and fun.  Join us for the inside look at California Living ® weekly on KKPX-TV 65/ION Television, Comcast 16 in the San Francisco market, and on KSPX-TV Channel 29/Comcast Channel 11 in Sacramento, California.
Check your local TV Guide listings for additional ION Television channel placements on Dish and Direct TV in your area.
Food and Wine is where the California Living ® story all began…
Enjoying great food & wine is what California Living ® is all about. California Living ® with Aprilanne's fascination with 'Food & Wine' all began with a visit to Gavin Newsom and Gordon Getty's famed PlumpJack Winery in Napa Valley, California, where the casual, unpretentious wine environment aims to demystify the wine experience for wine lovers.
It was here, in world renowned Napa Valley Wine Country that we began our exploration of the sensual pleasures wine tasting and the art of pairing food and wine can bring.  10+ years later we've expanded our food & wine travels to include a visit to visit all 7 inhabitable Hawaiian Islands including  the "Forbidden Island of Niihau" to learn about the Hawaiian people, food and cultures that make Hawaii "America's Healthiest State."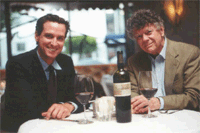 Aprilanne's wine tasting experience at PlumpJack Winery, Napa Valley, California airs during California Living™ Season 11 on KKPX-TV 65/Comcast 16 in San Francisco – Oakland – San Jose, and on KSPX-TV 29/Comcast Channel 11 in Sacramento CA – with ION Television.

Today, with over 10 years of delivering content on some of the greatest food & wine experiences California has to offer – California Living's passion for Food and Wine can be considered somewhat of an obsession -with TV specials taking viewers everywhere from the beautiful Sonoma Coast, to wine tasting in the Paso Robles Wine Country – Calfiornia's fastest growing wine region, and back to Napa Valley, Calfiornia where we meet up with prominent winery chefs and food & wine experts who share their secrets on how to create the perfect pairings with the foods & wines you love.